Regularly sharing your thoughts, experiences, and knowledge through your blog is a proven way to create and connect with an audience for your business. However, not everyone has the time, skills, or resources, to regularly create engaging and informative blog posts. So many look to buying blog posts online, either through a content agency, freelance writer, or a content service. Below are answers to some of the most common questions people have when considering purchasing blog posts online.
How much does it cost to buy a blog post?
The cost to buy a blog post can depend on several factors, including the length of the post, the writer's experience and expertise, and the complexity of the topic. Generally, the cost of a blog post can range from $0.05 to $2 per word. For example, a 500-word blog post may cost anywhere from $25 to $100, while a 1500-word post could cost between $75 to $300. It's essential to keep in mind that the cost may also vary depending on the platform or service you use to buy the blog post.
People also asked?
From our research people also asked the following questions which, although different, were too close to warrant a separate section in this article.
How much does a 1000 word blog post cost? / How much does a 1500 word blog post cost?
The cost of a 1000-word blog post can obviously vary depending on the same factors highlighted above. Buton average, a high-quality 1000-word blog post can cost anywhere from $100 to $500 and a 1500 word blog post costs anywhere from $150 to $750.
However, price doesn't always guarantee quality. Some freelance writers may charge less for their services, while others may charge more based on their reputation and expertise, and costs will increase if the topic is complex or requires a lot of research. Usually agencies will charge more for one off peices but lower their price per word if you pay for a set number of articles in a month and have an annual contract.
Is a 500 word blog too short?
A common misconception is that 1000 words is the standard for blogging, but in reality, some posts are way longer than that and some are way shorter. The length of a blog post should depend on the topic, the purpose of the post, and the target audience and how much information is required. While 500 words may seem short, it can be effective in conveying a message or sharing information on a specific topic.
Longer blog posts tend to perform better in terms of search engine optimization (SEO) and engagement. It's best to consider the topic and the intended audience when deciding on the length of a blog post. So why do we price our content credits in blocks of 500 words – because 500 is a good standard or minimum, our costs work out at 0.15p per word with is inexpensive for a high quality article. And because it keeps it simple. If you require a longer article you know how much you will pay for 500, 1,000, or 1,500 words.
Should I buy be buying Blog posts online?
Buying blog posts online is a time saving and cost effective way to maintain an online presence. Choose a reputable and experienced writer or service to ensure that the blog posts are of high quality and meet your specific needs – this is often not the cheapest option
Can you buy blog articles?
Yes, you absolutely can, and should, be buying blog posts. When we talk about buying blog posts online, we are usually talking about two different types of blog post services: the service places your content on their site – this is commonly called a guest post or an article backlink – and ones where you pay a writer to write content for you to post on your site – often fulfilled by a freelance writer.
Where can I get articles for my blog?
As I mentioned, if you are short on time, writing is not your strong point, or you just want to mix up the style of written content on your blog there are several places you can look to for buying blog posts. You can find writers on websites like Fiverr, or upwork. Use a service like BizKit uk, nDash, etc. Find a writer on LinkedIn or look for someone local to you.
Buying blog content offers an excellent return on investment. It takes time upfront to find a writer or article service that can consistently turn out high-quality work, which is why many fall into the agency trap.
Don't get me wrong, I am not saying content agencies are all bad, but in my experience as Head of Marketing for several companies, I learned that the agency model is often not the best for the customer. Agencies will tie you into a contract and commit you to a set number of peices of content, or wordsper month – of course some will let you roll over or bundle up your allocation but the purpose of this is so that you are tied in to a contract that gives them stable ARR (Annual Recurring Revenue) – we believe it is much better if you pay the same price for content and ONLY pay for what you need, when you need it.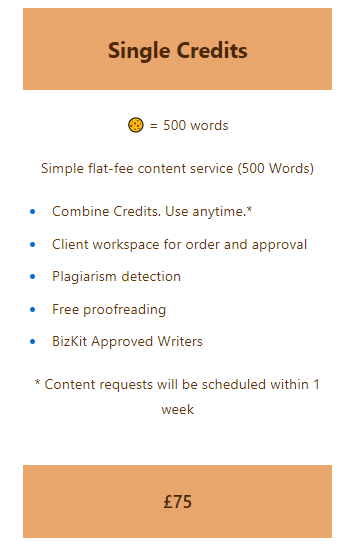 Can I buy Pre written blog posts?
You can also buy Pre-written blog posts from sites like Constant content or Private Label Rights content – These are usually ok for niche sites but for a professional business site, you would need to personalise them quite a lot. Although google says it doesn't directly penalise duplicate content, if you buy ready made content you would not usually be buying an article for your exclusive use.
Can I Buy a blog?
You could also buy a blog, while this might seem an expensive option – if you buy an established blog (there are usually quite a few offers for a lifestyle blog for sale so you can become aninstant blogger) or website with a lot of high quality content, that you can update and personlise, it will save you some time and you can benefit from the SEO value of an established domain. This approach is usually for people who want to buy a blog for passive income. You can either keep the domain name that you pruchase or redirect the URLS to your website. If you want to kee the SEO value as well as the content, you will need to keep the domain alive or redirect it. Not just copy the content from it.
I hope you found this useful, these are just some of the answers to pospular questions about buying blog posts.