Content marketing has been a key part of digital marketing strategy for years and with good reason. Content marketing is proven to deliver top results, from; raising brand awareness, boosting conversions, increasing sales, achieving higher ROI (Return On Investment), and more!
Let's take a look into what your business can achieve when you are creating consistent, high-quality content and why content is still King in 2023.
But before we do that let's establish a definition of content marketing, and then look at why is content marketing important.
What is Content?
Content can actually be any information delivered in a number of ways, visual, written, video, audio and a good content strategy will usually contain a variety of different types of content. Many businesses will use a content marketing agency or content marketing services or if you decide to do it yourself there are lots of tools for content marketing.
What is Content Marketing?
A marketing tactic that involves creating and promoting content online to attract customers. Types of content marketing could be videos, blogs, social media posts, images, podcasts, guides, whitepapers etc. This is usually aligned with an SEO strategy.
Content marketing offers a way of connecting with potential customers without coming across as pushy. Its main goal is to attract, engage, and retain an audience by providing information which may be instructional, thought-leading, valuable, and relevant to a particular niche or industry. It is often written to address pain points and educate people about the product or service a business offers as the solution. Case studies are also a popular type of content, that shows prospects proof of what you have achieved with a similar company in their industry.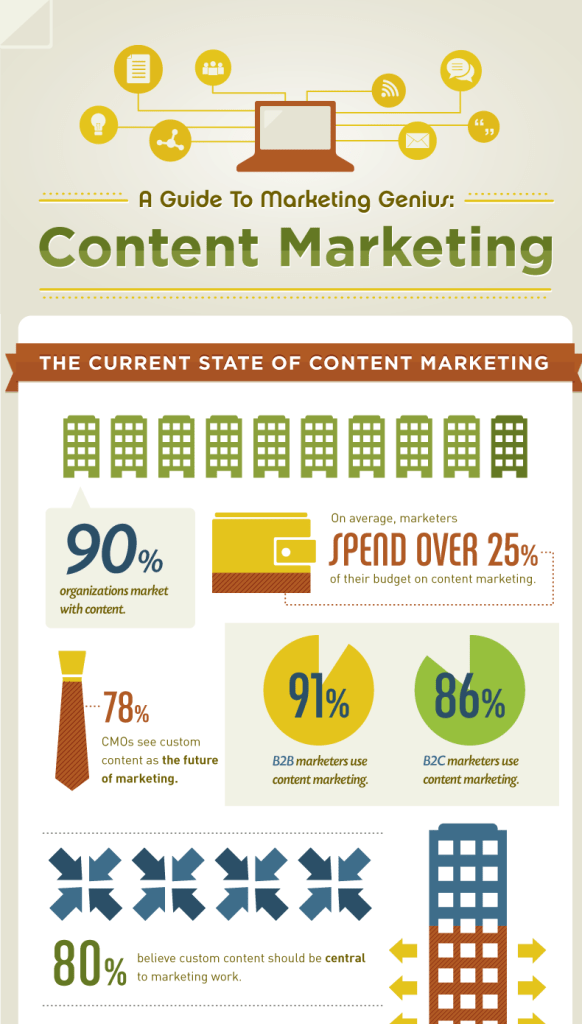 1. Improve Business ROI
While we all like to be seen to be giving value and sharing knowledge freely, if you are creating content as part of your business, it is probably related to generating revenue. So it is worth looking at your content marketing ROI. After all, if you are investing time and money into your content, it is not unreasonable to expect a return on that investment. Sometimes this may be direct, sometimes the returns may be less tangible. The good news is on average content marketing costs 62% less than traditional marketing and generates about 3 times as many leads. (Source: DemandMetric). And done right, it offers a reliable return on investment.
These days we spend hours scrolling through social media, catching up on the latest news or asking Google to answer all our burning questions. While looking at people's bottomless brunch pictures is ok, what people are really after is to quench their thirst for information. As a business, make it your mission, to give people what they want and become their go-to resource for all their content needs about that common niche. To do this you must find out exactly who your audience is, what they want to read about, and write something awesome! You can collect email addresses and start a newsletter, and build a following you can interact with regularly.
3. Spread your message
I know it is obvious that SEO and content go hand in hand, but smart people say, write for the audience not the algorithm. SEO helps people find your content, but it shouldn't be the primary reason for creating it. And once you have the audience, SEO won't keep people on your site. Therefore a successful content strategy, considers both. Publishing high-quality blog articles on your website will increase the number of pages indexed and increase your rankings in search engine results pages (SERPs), and get you more visitors. And rankings do help put your brand in front of your target audience – increasing leads and conversions. So it is not all about SEO – maybe your goal for a piece of content is just to communicate your view.
4. Attract New Leads
Inbound marketing is designed to attract prospects to your site by providing valuable content and creating long-term relationships, built on trust. Inbound marketing leads are generally 'hotter' (better) leads because they are actively looking for information in your space. To turn visitors into leads you need to know who they are, the easiest and most common way is to offer them something of value, in exchange for their contact details. Popular 'gated' content ideas are e-books, guides, templates, tools, webinars and calculators or exclusive offers. While it is not recommended that once you get their email address you immediately start bombarding them with sales emails, it does mean that you can now reach out to your audience directly, give them more of what they want and establish better relationships.
5. Be a Thought Leader
Content that expresses an expert opinion is often called thought leadership content. If you demonstrate your industry expertise and share your knowledge with your audience, you can position your brand as a reliable source of information and build trust. Google will love it too, with the right tweaks for 'E-A-T (Expertise, Authoritativeness, Trustworthiness)', 'YMYL (Your Money or Your Life)', and 'Helpful Content', you can show Google that you are an expert in your field, and it will help you rank higher in the SERPs.
6. Boost Your Site Authority with Quality Backlinks
Journalists, bloggers, and other companies in your industry will often be looking for original content sources to reference for data and quotes. So, when you have great content, people will want to link to it. Links (back) to your site are called backlinks. Creating link juice to your site signals to Google that your content is authoritative (other websites think it is good content) and Google has stated that this is a direct ranking factor. So you should include a strategy for generating backlinks – But be warned just getting a link from a poor quality site – is not going to help and could even harm your website. So actively reach out to high-quality relevant websites and ask for a 'DoFollow' contextual link.
7. Find out more about your audience
Creating and monitoring how your content performs, will help you better understand your target audience. If your content is useful, people will link to it or share it on social media. You can monitor this activity and gather great insights into what information and types of content people are looking for. This will help you create more content that is even more relevant for your audience. In turn that can help you sell more. You can use tools like Google Analytics to find out more about your audience; demographics, location, etc. and see how they interact with your content. Social monitoring/listening tools will help you see who is talking about you, and what they are saying.
Get an article like this for your blog, with only 2 credits.