Five times as many people read the headline as read the article.

Ogilvy
This famous quote makes a lot of sense. But think about it, the headline is the only thing most people read, especially when the headline is not compelling or interesting. A good headline does a great job of describing exactly what the following text is about, and at the same time makes its readers curious enough to spend their time and energy to read on.
So here are 7 formulas for you to follow so you can write headlines like a Boss.
1. The Secret of/to
This is a great headline formula to grab your readers' attention – that really works. The headline prods our natural curiosity and suggests that you are giving them something that no one else knows (you know, like a secret ?). Even though this is quite a common formula, it still works.
Examples:
The Secret of Successful relationships
The Secret to retiring early
The Secret formula I used to write headlines like a boss
2. What X can teach you about Y
Here we have a really flexible headline formula; think What kids can teach you about business, What zombies can teach you about your business. You can get really creative with the X; What lego taught me about a successful marriage, what my dog taught me about enjoying life, What my kids taught me about design and so on, get it right and it is a powerful hook to draw your audience in. Some examples I found are What the coronavirus pandemic has taught me about life, What the Dead Have Taught Me about Living Well, What The Sport Of Golf Taught Me About Being A Parent
A variation of this is What a famous person taught me about. What Lou Reed Taught Me About Love.
And this works even better when the person is not an obvious match for the niche, like in this example What Snoop Dogg taught me about marketing.
Examples
What winemaking taught me about SEO
What having kids taught me about writing headlines
This example is from an email I received today, is a slight variation of this formula: Beavis and Butt-Head taught me how to make a fortune!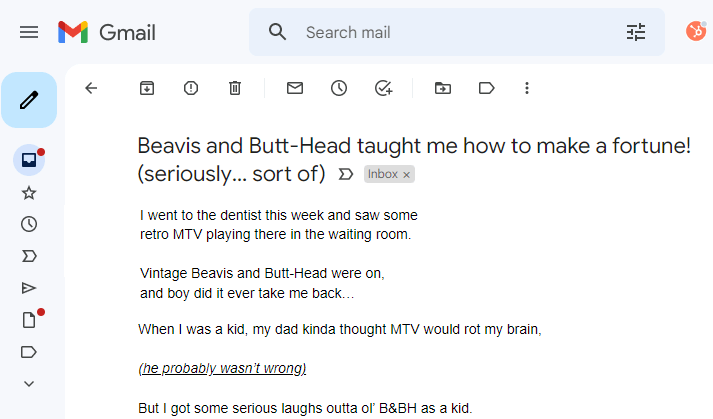 3. The Quickest & Easiest Way To
This is a slightly longer form headline that really works because people are always looking for shortcuts. When you write headlines using this formula it almost guarantees clicks for people in your niche.
When you write headlines in the straightforward form, you can say something like "The quickest and easiest way to get leads for your business" or "The Quick and Easy Way to Effective Speaking", and a nice twist or expansion of this would be adding negative and positive situations like "The quickest and easiest way to go from [losing situation] to [winning situation]", add you can even add another compelling situation, as in the first example below.
While this formula gets a lot of attention, as with most of these formulas, your content has to live up to its claim and give some good information.
Examples
The quickest and easiest way to go from zero traffic to viral success, without spending a penny on ads.
'Quickest' and 'easiest' way to 'prevent' towels smelling 'musty'
The Quickest, Easiest Way to Make Kahlua
4. [Number] Common Mistakes to do [something] – and how to avoid them
This formula uses a number of psychological triggers, a number – Like 7, common mistakes (many people are doing this wrong) – And we promise to help them not to make those same mistakes so this can be a very powerful headline. For the second clause, you can use avoid them, or Fix them, or omit it and just go with the [number] of mistakes people make doing [something].
Here are some examples, in action; 7 Most Common To-Do List Mistakes and How To Fix Them, 12 common mistakes people make the first month at a new job
Another variation of this is, Are you making these [number] mistakes in X. (your business, life, love, etc)
Example
7 Common Headline mistakes, and how to avoid them
Top 7 Most Common Mistakes Travellers Make When Applying for a Schengen Visa
7 most common mistakes people make in an interview
5. If you want to do X do Y
This formula is also quite simple. If you want to do [achieve something desirable] do Y [something simple]. for example "If you want to be happy, practice gratitude and surround yourself with positive people", "If you want to be a good communicator, listen actively"
Another variation of this is (Even) If You're [type of person], You Can [do something]. This uses specificity in the headline to appeal to a particular type of person with the first blank, and the beneficial promise to that person in the content or body copy with the second.
Examples
If you want to be a better person, be kind and help others
If You're an Accountant, Our Frequent Flyer Program Really Adds Up
If You Love Scuba, You Can Dive Belize This Week Only for a Song!
6. What everybody needs to know about
This type of headline is an informative or educational headline. It provides information on a specific topic and presents it in a way that is accessible and relevant to a wide audience. The use of the phrase "what everybody needs to know" suggests that the information is relevant to a large group of people, making it a great attention-grabber.This is a ???? What everyone needs to know about X.

You can take 2 directions with this when you write headlines, with the subject being a desirable thing, or a pain/fear. e.g, What everyone needs to know about Copywriting? What everyone needs to know about paying Tax
examples
What Everybody Needs to Know About Sustainable Living.
7 Things Everyone Needs to Know About Personal Finance
The Basics of Investing: What Everyone Needs to Know.
7. The number 7 increases CTR by 20%
There is a claim that if you use the number 7 in your headline, 20% more people will click through to your article. I haven't checked the research but the idea behind this claim is that the number 7 has a psychological impact on people that makes them more likely to click on a headline or ad that includes it. Certain numbers, such as 7, are considered "lucky" or have a positive connotation in many cultures.
But it is not just the number 7, using numbers when you write headlines can enhance the information being presented by making it stand out, specific, credible, memorable, and easy to digest. Numbers grab the reader's attention and provide a clear, concise way to convey information, making it easier for the reader to understand the content of the article. By providing concrete, quantifiable information, numbers can add credibility to a headline. Additionally, numbers can make headlines more memorable by providing a clear and easy-to-remember structure for the information being presented. Finally, numbers can help break up a headline into manageable, easily digestible pieces, making it easier for the reader to scan and understand the information.
Examples
7 Secrets to a Better Night's Sleep.
10 Ways to Boost Your Productivity.
15 Surprising Benefits of Meditation.
3 Simple Steps to Improve Your Work-Life Balance.
The Ultimate Guide to Getting Fit: 50 Tips and Tricks.
100 Foods That Can Boost Your Immune System.
5 Common Mistakes to Avoid When Starting a Business.
Following these formulas will help you come up with some great headlines for your content – and we all know how important the headline is! Remember that you don't need to strictly follow the format, sometimes the best headlines are ones which are slightly more unique, but these formulas should help you write headlines that grab people's attention.
If you need more inspiration head over to our simple but effective Free BizKit Headline Generator, put in the subject, click the button, and get over 20 example headlines